You develop acne when the hair follicles or skin pores get clogged with excess oil, dirt, and dead skin cells. This buildup of oil and dirt provides the bacteria with a perfect environment to grow and this leads to the development of acne pimples. You can try a number of natural remedies to deal with acne. The problem is that sometimes, you can treat your acne, but may find it difficult to remove acne scars. Using aloe vera gel for acne scars may help make things easier. Let's find out why it helps.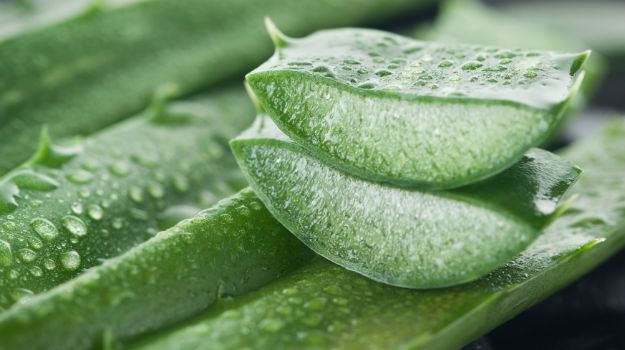 How Does Aloe Vera Help with Acne Scars?
There are actually a number of reasons why aloe vera gel may prove effective in the treatment of acne scars. For instance:
It contains important vitamins that are essential for blood production. It also provides you with minerals, such as calcium, zinc, magnesium, chromium, iron, selenium, sodium, potassium, and manganese that accelerate the healing.
It provides you with loads of amino acids, which are essential for the proper nourishment of your skin. It helps improve softness and maintain elasticity in your skin.
It has antibacterial, antimicrobial, antiseptic, and germicidal properties, which is why it helps eliminate bacteria and prevents acne scars in the first place.
It contains polysaccharides and gibberellins compounds that are essential for the cell growth. It also proves beneficial in the healing of damaged skin cells.
It is very high in water content and works great to keep your skin hydrated.
It contains antioxidant and astringent properties and eliminates free radicals from your skin. By preventing oxidative damage, aloe vera gel can repair broken skin and heal acne scars.
How to Use Aloe Vera to Treat Acne Scars
Now that you know that using aloe vera gel for acne scars may prove effective, you may also be interested in learning how to use it properly. Here are a few options to consider.
1. Use Aloe Vera Juice
A simple way to eliminate acne scars is to apply aloe vera juice directly to the affected area. It contains antibacterial properties, so it will heal your acne and lower risk of developing scars.
Cut a fresh aloe vera leaf to extract its juice. Apply it directly to your skin and leave it there for about 10 minutes. Then, apply another layer of the gel and wash it off after a few minutes using clean water. Repeat twice a day for good results.
2. Combine Aloe Vera with Lemon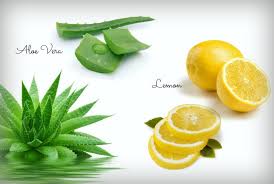 Lemon has antibacterial properties and also works great to lighten your skin tone. Therefore, it can also help reduce the appearance of acne scars.
Take 1 tbsp. of aloe vera gel and add 5 drops of lemon juice to it. Mix well and then apply to the affected area. Be sure to massage the area gently for a few minutes and then wash it using water after a few minutes. Repeat twice a day.
3. Use Chickpea Flour with Aloe Vera
The combo of chickpea and aloe vera works because it removes dead skin cells and excess oil from your skin. It also helps lighten the appearance of acne scars.
Clean your face using a mild face wash. This helps remove dust and oil from your skin. Now, make a paste by mixing a tablespoon of chickpea flour and a teaspoon of turmeric powder to aloe vera juice. Apply it to your face and let it sit there for several minutes. Scrub your skin when the paste becomes dry. Finish by applying an aloe vera moisturizer.
4. Use Aloe Vera with Vitamin E Oil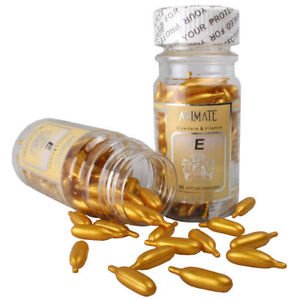 The combination helps rejuvenate your skin and promotes healing at the same time. Using vitamin E oil and aloe vera gel for acne scars will also help keep your skin moisturized.
Combine a teaspoon of vitamin E oil and a couple of tablespoons of aloe vera gel. Apply directly to your face and neck and leave for several minutes. Use lukewarm water to wash your face. Then, finish by washing your face with cold water.
5. Combine Turmeric and Aloe Vera
Turmeric powder works great as a gentle scrub and helps rejuvenate your skin. The combination of turmeric and aloe vera helps repair your damaged skin and soothe painful acne as well.
Add a pinch of turmeric powder to a tablespoon of aloe gel and apply the mixture to the affected area. Use your fingers to massage the area gently. Leave it for 10 minutes and then wash your face with water. Repeat thrice a day to get good results.
6. Combine Almond Oil and Aloe Vera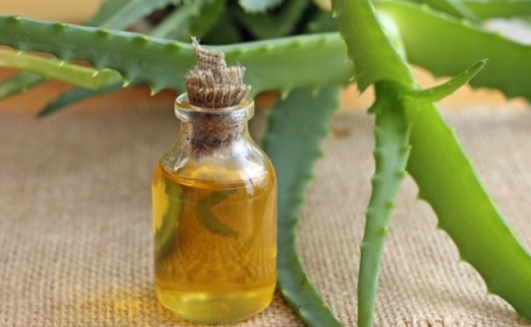 Almond oil works great because it contains vitamin E, which helps keep your skin fresh and smooth.
Take a clean bowl and add 2 drops of almond oil to it. Now, add 1 tbsp. of aloe vera gel as well. Mix properly. First, exfoliate your skin using a scrub and then apply the mixture to the affected area. Massage gently and leave for 20 minutes. Then, clean your face using a moist tissue paper. Do it at least once a day to get good results.
7. Opt for Tea Tree Oil and Aloe Vera Gel
Using tea tree oil and aloe vera gel for acne scars help because it lightens your skin and keeps it healthy as well.
Combine 2 drops of tea tree oil and a tablespoon of aloe vera gel. Mix properly and then apply to the affected area. Leave it there for a while and then wash your face with cool water. Do it once a day to notice results.